Riga (pop. 650 000) is the largest city in the Baltic States. Together with suburbs, it contains almost half of Latvia's inhabitants. Nearly all major Latvian businesses are headquartered in Riga and foreign representations to the entire Baltic region are usually located in Riga.
Riga is both a major entry point to the Baltics region (its airport is the largest) and a major tourist destination of its own with one of the world's best collection of art nouveau buildings, wooden residentials and a Medieval Old Town (UNESCO World Heritage).
Late 19th and early 20th century were the prime periods of Riga expansion, creating its romantic current look. However, the city was initially developed by German knights and merchants in the Medieval era when its cute Old Town was built.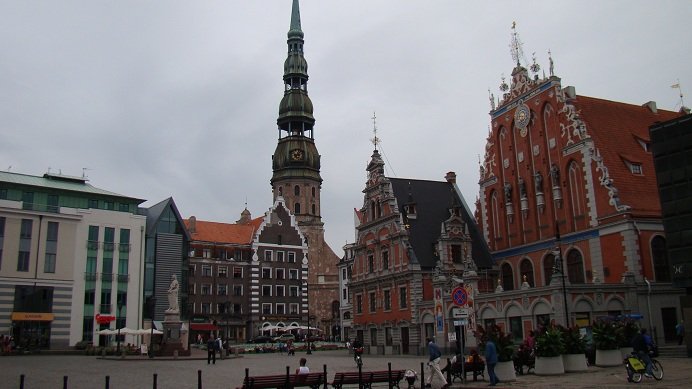 The 20th century was especially bloody for Riga as the Soviet occupation transformed the city and murdered thousands of its people while settling the city with Russians. While Riga is now a modern Western metropolis with Soviet past little visible for those who don't seek it, the inhabitants of Riga remain bitterly divided between once-oppressed ethnic Latvians (~43% of the population) and a largely Russian-speaking remainder (privileged while under Soviet occupation).
Riga is divided by geographic features into:
1.Old Town (Medieval district surrounded by moat and Daugava)
2.Downtown (19th-century districts, surrounded by railway and Daugava, consisting of the massive art nouveau Centrs and more prosaic Eastern Downtown, as well as the largely modern Northern Downtown)
3.Eastern new districts (districts beyond the railway, developed in 20th century or as 19th-century suburbs. They include a former industrial hub of Sarkandaugava, multiethnic Maskavas suburb that has become a shabby version of Downtown, interwar district Teika, and a historic wooden villa suburb of Mežaparks where main Riga cemeteries are also located)
4.Pardaugava (the areas west of Daugava river, where the districts closer to Old Town – Āgenskalns, Kipsala – have been built over in the 19th century and are now undergoing transformation into a new city center. Further away lay the Soviet districts).
Each of the famous 19th-century districts is a collection of four distinct types of buildings:
1.The largest and most lauded ones are 5 story edifices where elaborate art nouveau style predominates.
2.Then there are smaller and simpler (2-4 floor) brick buildings.
3.Wooden 2-floored residentials are another icon of Riga, although they are not so prestigious.
4.And, at the "smallest end" there are single-floored detached homes and somewhat larger villas.
The Centrs neighborhood is nearly entirely built of the 5-floored residentials, but the further you drift from the Centrs, the less such buildings (and the more buildings of the smaller types) there you will find.