In the heart of Medieval Riga, the labyrinthine pedestrianized streets of Old Town are still outflanked by massive church spires and guild houses. They date to the Middle Ages when Old Riga was a place of peaceful religion and trade, independent of nearby militarized states.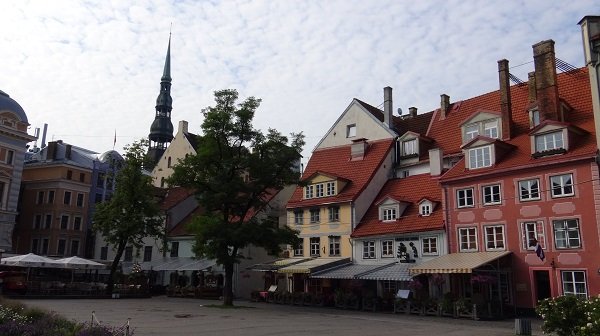 Old Riga is surrounded by a moat-like "City canal" and a park on three sides, with the Center district lying beyond them. The Canal has replaced the city wall. On the West side Old Riga faces the mighty Daugava estuary. While freight vessels are now anchored closer to the sea, the views of Riga Old Town are still arguably the most magnificent from an embankment on the opposite shore of Daugava.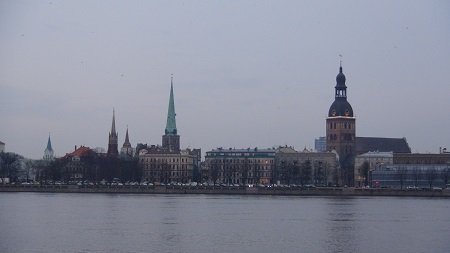 Life in Riga Old Town revolves around three squares, each of them having a very different atmosphere.
City Hall square area (South)
The serene Rātslaukums (City Hall square) is dominated by a magnificent facade Blackhead house, one of many medieval merchant guilds. The particular house is new, however, faithfully rebuilt after independence. Like some other gems of Old Riga, it was destroyed by the Soviets – and contemporary Rigans try to reassert that lost history. Likewise, the once-destroyed City Hall was rebuilt.
The atmosphere of the square is however still marred by a bleak black Soviet building that now serves as the Museum of Latvian occupation (originally built to display information about Latvian Red Riflemen but, now restored, offers a great introduction to the tragic occupation of Latvia, memory of which is ingrained in country's psychology, culture, demography and beyond).
City Hall square itself is rather devoid of life, lacking cafes and entertainment. Those are plentiful in surrounding streets. One home hosts Mecendorf museum that presents mural-clad interiors of an 18th-century rich Baltic German home (less impressive than it sounds).
Rising over the entire area is Ss. Peter's church tower. Its multi-tiered wooden crown burnt down and rebuilt, now serves as a good vantage point over the city (72 meters, elevator available).
Cathedral square area (North)
Cathedral square (Doma laukums) is the most authentic and stunning square of Old Riga.
The streets around it host many stately red-brick churches of various denominations, once frequented by foreign merchants and local craftsmen. After all, Riga was part of the Hanseatic trading league in the Medieval era, which spanned as far west as England. So the city even has a St. Savior Anglican church (current building dates to 1857). A Catholic Our Lady of Sorrows church (1785) is nearby.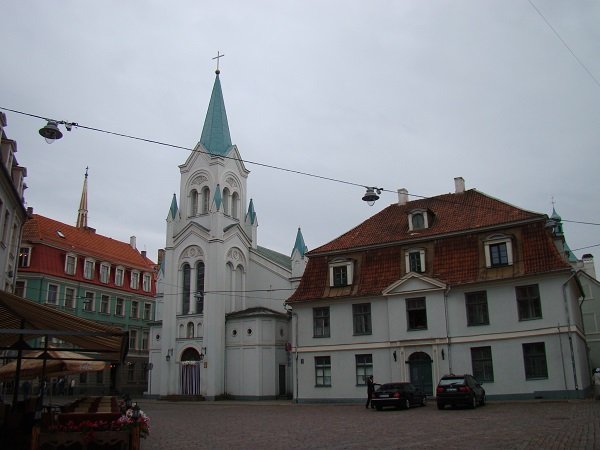 Cathedral square itself is dominated by a massive Lutheran Cathedral (1211 with many modifications). The Catholic minority has its own smaller St. James Cathedral (1225). Both churches would be passed from Lutherans to Catholics and back during history and their ownership was even contested in two Latvia-wide referendums.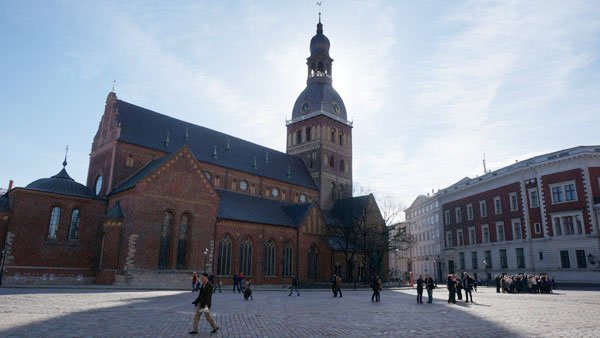 Although Old Riga is some 800 years old, most residential buildings are in fact newer (having replaced their forerunners during the 19th-century boom). Therefore "Three Brothers" homes, the earliest dating to 15th century, are especially famous.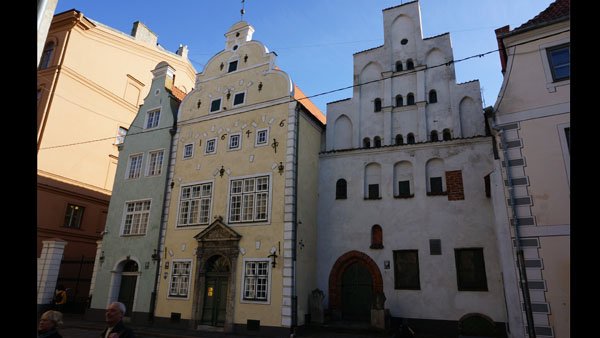 The northwestern side of Riga Old Town hosts a crusader castle (heavily rebuilt into a palace since) and the sole surviving fortifications such as the Gunpowder tower (now a war museum). Latvian parliament and National theater are also located nearby.
The political importance of the area made it a target of Soviet military attack in 1991 when the Soviets attempted to quash the restored Latvian independence. Latvians hastily built barricades to prevent tanks from coming and would spend days waiting around makeshift fires to keep the warmth. Upcoming days resulted in some deaths but Latvia would not fall. These heroic times when armless struggle toppled the struggling Soviet regime are reminded by a small-but-quite-ingenious Barricades museum.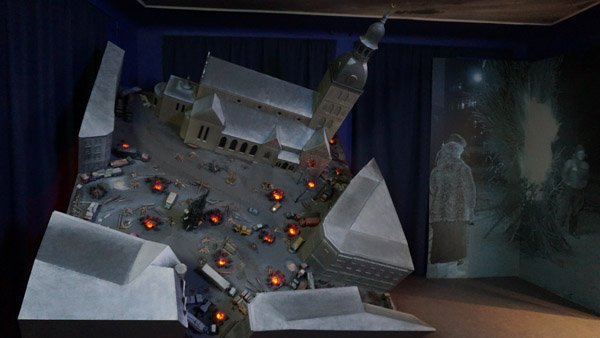 Livu square area (East)
Unlike its two cousins, Livu square is not historic: it was created by the Soviets who leveled historic neighborhoods that stood in its place.
However, hedonistic visitors seem to care little about it, spending time in Livu Square's many open-air cafes as well as restaurants and nightclubs of surrounding streets.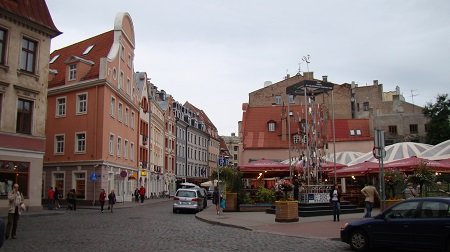 Two magnificent guild halls that survived Soviet occupation help to forget the square's origin. Nearby House of cat has a curious story: the small cat sculpture had its backside turned at the guilds after the house's Latvian owner was not admitted to join them by German peers (but it was turned around after a court reversed its decision).
While Livu square area is the leisure center of Old Town (and Old Town itself – the hub of Riga), noisy entertainment and high prices have almost evicted people from the district. Merely 3 000 Rigans continue to live in the Old Town, although some 23 000 work in the area.
Loading map...