Latvian flag
Latvian flag is the best-known symbol of Latvia. It is considered one of the oldest flags in the world, as it has been described as early as 1271 in Livonian Chronicle as a battle flag used by local tribes. That said, with Latvian independent state extinguished for centuries, the flag was forgotten and not used. It was only rediscovered and readopted in the 19th century when Latvian National Awakening took place and intellectuals searched for symbols that could epitomize the nation. After Latvia became independent in 1918 there was no question anymore on what flag should be used, and it remained in use ever since.
Latvian coat of arms and heraldry
As Latvians had no medieval states, they also lack a historic coat of arms. A new one was thus devised soon after independence, following the European heraldic tradition. The coat of arms united many earlier patriotic symbols that are also still used on their own sometimes.
Three stars above the coat of arms represent the unity of Latvia, each star standing for a region that had a separate history of the 1621-1918 era but was unified into Latvia afterward. The three regions are:
*Vidzeme (Polish-Lithuanian rule 1581-1621, Swedish rule 1621-1721, semi-autonomous Russian rule 1721-1918)
*Latgale (direct Polish-Lithuanian rule 1561-1775, direct Russian rule 1775-1918)
*Courland–Semigallia (fief of Poland-Lithuania 1561-1795, semi-autonomous Russian rule 1795-1918)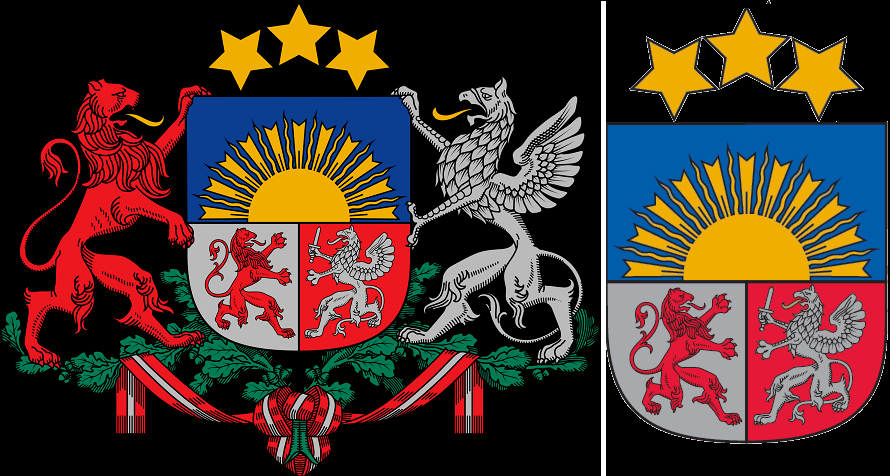 Unlike Latvia as a whole, the separate regions have historic heraldry, now also appearing on the national coat of arms: the lion represents Courland-Semigallia while the griffin represents Vidzeme.
The rising sun was the symbol of the World War 1 Latvian riflemen regiment within the Russian Imperial forces. As the independence was achieved during World War 1, memories of the battles were still potent enough to warrant its inclusion.
The coat of arms has multiple versions (from smaller to largest), and the larger versions also include a flag-colored ribbon and oak leafs (national tree) under the shield.
National anthem of Latvia
Latvian national anthem is a hymn "Dievs, svētī Latviju!" ("God Bless Latvia") by Kārlis Baumanis.
Dievs, svētī Latviju!
by Kārlis BaumanisDievs, svētī Latviju!
Mūs' dārgo tēviju
Svētī jel Latviju
Ak, svētī jel to! (repeat)Kur latvju meitas zied
Kur latvju dēli dzied
Laid mums tur laimē diet
Mūs' Latvijā! (repeat)
God bless Latvia
English translation ©Augustinas Žemaitis.God Bless Latvia!
Our dear Fatherland
Bless Latvia
Oh, bless it!Where the Latvian daughters are pretty
Where the Latvian sons are strong
Let us dance there out of joy
Within our Latvia!
As the hymn was composed while Latvia was deep under Russian Imperial rule, word "Baltic [sea coast]" was used to be sung instead of Latvia, that way avoiding a ban on the song.
Other symbols of Latvia
Freedom Monument of Riga itself is a potent symbol, both as a place for key national festivals and as an embodiment of Latvia. The fact that it was one of the very few Latvian monuments not to be demolished by the Soviets likely increased its importance to the national psyche. Three stars symbol forms part of the composition.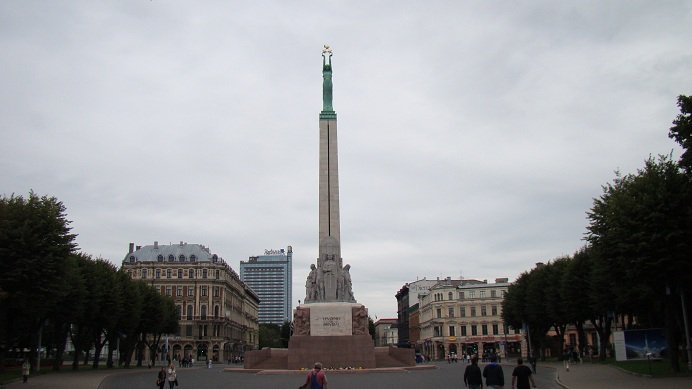 Swastika has been used extensively in Latvia since prehistoric times. It was prevalent in pre-WW2 Latvian symbolism, often associated with Latvian folk culture. Banned by the Soviet Union together with all the patriotic symbols, the swastika saw just a limited return after independence, as non-locals often mistakenly associate it with Nazism. Many Latvians believe that the "swastika should be reclaimed" but to avoid misunderstandings they sometimes use more stylized forms of the symbol today.
Other things and practices held as "national" by significant parts of society (none of these – except for language – are enshrined in law so it is purely traditional):
National bird: White wagtail
National tree: Oak and linden
National flower: Daisy
National insect: Ladybird
National language: Latvian
National religion: Christianity (Lutheranism and Catholicism)
National sport: Ice hockey
National alcoholic beverage: Riga's Balsams
National "mineral" (jewelry): Amber
Latvian folk costume is used today mainly when singing folk songs, but it is nevertheless a potent national symbol.