Sigulda (pop. 17 000) is a town famous for its castles and picturesque natural surroundings which form the Gauja National park (nicknamed "Switzerland of Latvia").
Castles and palaces of Sigulda
Three Medieval castles are located in the area, once built and owned by the German conquerors. At the time German bishops of Riga would compete for domination of Latvia against German knights and the borderline between to powers ran at Gauja river, leading to them building castles here.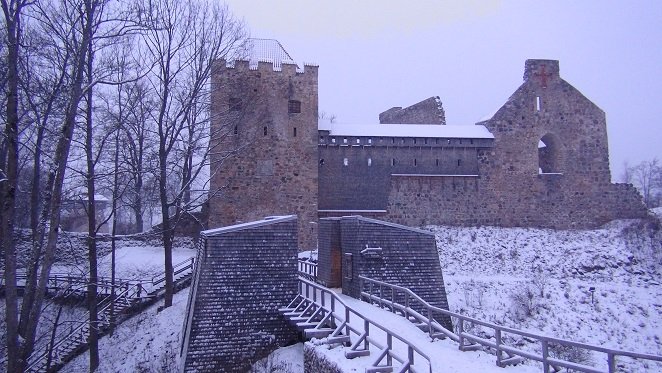 The red brick Turaida castle (1214) of Livonian Order is the most famous as it is seamlessly integrated into the landscape. Although heavily damaged later, some walls and two towers have been reconstructed in the 20th century. They offer great views of the Gauja national park. Turaida Lutheran church (1750) is located nearby, most famous for a tragic legend about a pretty girl nicknamed "Rose of Turaida" and her tragic death (she is buried nearby). Both may only be easily seen after getting a park ticket.
The grey Sigulda Medieval Castle is now semi-ruined. Originally built in 1207 it became the residence of Livonian Order Land Marshal in 1432. It offers various historic events.
The nearby Sigulda New Castle is actually a 1878 palace of the local nobility. It has been known as a castle because of its gothic revival castle-like style.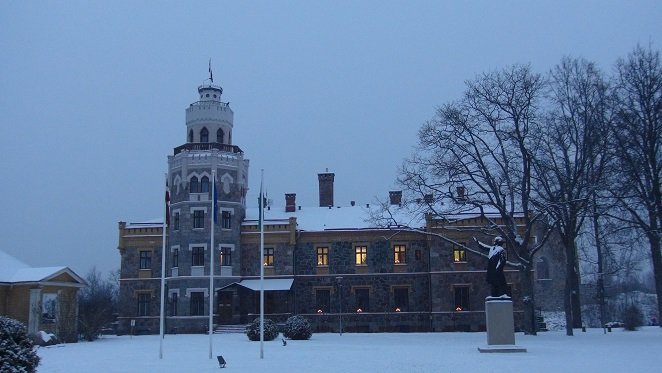 Krimulda Castle (built by bishop of Riga in 14th century) is nearly completely ruined in 1601 war. These days the nearby Krimulda manor is often referred to as castle, but it is really a 1848 Neo-Classical building of the local nobility.
Active tourism in Sigulda
Sigulda is also a major location for active tourism, which includes a bobsleigh track and skiing track (limited altitude means a short season however).
The most unique is (out of town boundaries) the Aerodium where visitors are raised into air by a massive ground fan. Celebrated as a Latvian invention Aerodiums were featured in Latvian pavilions of the global EXPO exhibitions.
Surrounding forests offer multiple hiking routes.
The green (in summer) panoramas may be witnessed from a pricey cable car (43 m height) which also offers bungee jumps.
Līgatne village
Līgatne 19 km east of Sigulda is popular both for its nature (sandstone caves and forests that surround the town) as well as its unique history. The town has been built as a late 19th century workers' community of the local Paper factory. The factory owners built wooden terrace homes for the workers, as well as hospital, school and other institutions. The factory still operates in the same historic buildings and may not be visited, but the streets around it are accessible.
In the Cold War era the forests of Līgatne were chosen for a bunker that would have been used to evacuate Latvian communists in case of a nuclear war. As the US-Soviet confrontation never turned "hot", it is now a tourist attraction.
Additionally, Gauja is spanned by an engine-less river ferry in Līgatne, loved by buffs of rare transportation.
Sigulda is easily accessible from Riga (60 km), making it a popular destination for city dwellers wishing to "escape to the nature". It is also located near Cēsis (40 km), famous for yet another Livonian Order castle.