Soviet modernism (functionalism) is the dullest style of Latvia's architecture and also one of the more visible ones.
These buildings were constructed between 1955 and 1990 when the Soviet Union effectively banned all significant architectural decor for ordinary buildings such as apartment blocks and shops. They were constructed according to the same used-and-reused designs, often built of prefab materials.
Entire city districts (called "micro-districts") were designed at once with similar-looking apartment blocks (typically of 5 or 9 stories) built around similar-looking shops, kindergartens, and schools. Typically, people would only come home to sleep to such districts, working in the center or (increasingly likely) Soviet factories. The sizes of Soviet apartments were tightly limited, the possible variations for furnishing also were few.
Some Soviet modernist apartment blocks were constructed in the city centers as well, however, the Stalinist idea of transforming the city centers was slowly scrapped, effectively saving the downtowns from further mass demolitions.
That said, key public buildings (e.g. theaters) were still constructed in city centers as the Soviet micro-districts were strictly residential. These buildings of the late Soviet occupation era, however, followed somewhat more interesting architectural styles. Brutalism (with its concrete mass in the open) dominated the 1970s together with so-called regional architecture (which in reality looked like dull functionalist buildings with seemingly arbitrary gabled roofs or irregular shaped blank brick walls). Postmodernism (incorporating more meticulous reinterpreted decorations) became popular in 1980s.
Rather simple and abstract sculptures were built to "beautify" the facades, as well as rather direct propaganda slogans (the latter were mostly removed in the main cities). Among the otherwise nondescript buildings, massive-yet-simple memorials were erected for various Soviet concepts such as "liberation of Latvia" (actually, the occupation of Latvia). Many of these were removed after independence, but some remain.
Because Latvian cities were larger before World War 2 than cities in many other places ruled by the Soviet Union, less expansion was needed in the 1955-1990 era. This made Soviet modernism less visible in Latvia than elsewhere in the Soviet Union, although one just has to move to the outskirts of a city to see entire districts built according to the style.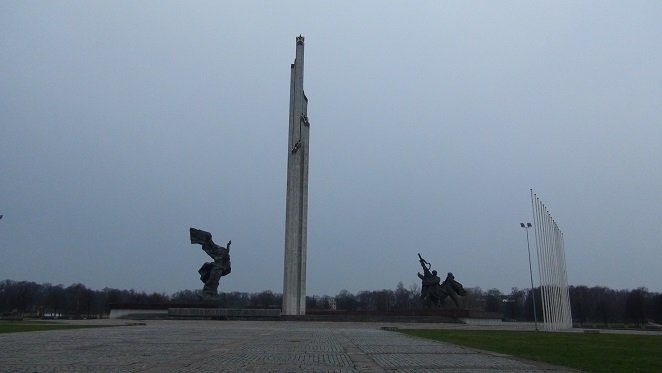 Today the Soviet modernist buildings have a very bad image in Latvia. Low building quality, bad insulation, and other drawbacks mean that these buildings are not good to live at. Massive renovation or entire replacement is needed. Soon ater independence, the Soviet modernist micro-districts also received a subtle market-led change. Small courtyards became overfilled with cars (no longer a luxury) and empty places between buildings were built over with shops, services (there were few and far between in the USSR) and some churches (all such districts were originally churchless in accordance with atheist Soviet policies). People also attempted to patch up their bad apartments by, for example adding antennae and transforming balconies into small rooms, which made the crumbling Soviet modernism even more chaotic in appearance.