Kuldīga (pop. 12 000) is one of the most atmospheric towns in Courland and Latvia.
Kuldīga famous for its picturesque old town with 17th-18th centuries riverside buildings. As the town population today is similar to that before World War 1, and the destruction witnessed minuscule, nearly all buildings in the Old Town are at least a century old.
Main streets both for enjoying old buildings and activities are Liepajas (pedestrianized) and Baznicas. The main City Hall square is between them.
Kuldīga once served as a major center of the Livonian Order and then Duchy of Courland and Semigallia, but the castle did not survive and has been replaced by a Castle park. Only some cellars have been reused by the Kuldīga museum. The museum operates in a large wooden building that has been brought in from EXPO 1900 in Paris where it served as Russian pavillion. Playing cards of the world are also exhibited there.
Kuldīga has the Europe's widest waterfall (width 249 m) known as Ventas Rumba. However, it is only 2 m in height. Downriver from the falls Venta river is crossed by a historic brick bridge (1874), one of the longest surviving brick bridges in Europe. A disused water mill provides more scenic water views with its 4,5 m tall dam.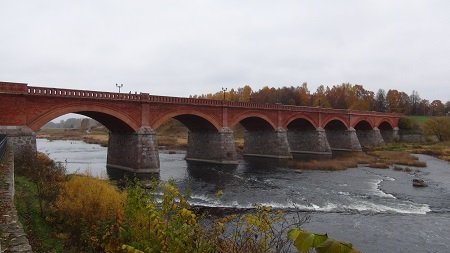 Among the old small buildings of Kuldīga stand rather massive houses of worship of four religions: St. Catherine's Lutheran, St. Ann Lutheran, Holy Trinity Catholic, Russian Orthodox (built under Russian rule in 1871 when Orthodoxy was promoted). Synagogue is now closed and hosts a city library.
The forest 5 km north of Kuldīga has Riežupe "sand caves" underneath. Originally excavated in order to get high quality sand they are now used for tourism. Candle-carrying excursions visit a quarter of 2 km cave labyrinths; various attractions are offered. The caves are closed in winter for hibernating bats (some of them come to sleep earlier and may be seen).