By 1700, a rapidly modernizing Russia sought to become the prime Eastern European great power, and Latvia was to become its window into the Baltic Sea and oceans beyond. Having defeated Sweden in the long Great Northern War (1700-1721), Russians captured Vidzeme with its all-important Riga city.
Russian presence became increasingly felt in the rest of Latvia as well. Courland-Semigallian dukes were bribed by Russia with opulent Baroque palaces, slowly eroding their loyalty to Poland-Lithuania. Latgale's Polish-speaking nobility may have been funding ever-more-lavish Catholic churches, but their countryside was swelling with Russian Old Believer refugees, who fled from prevailing discrimination in Russia.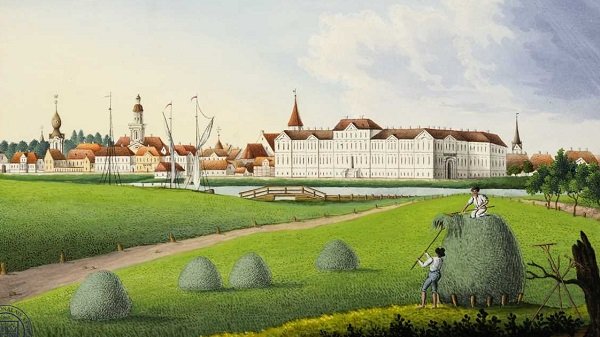 Influence turned into conquest as Russia captured Latgale in 1775 and Courland-Semigallia in 1795. That year, most of Lithuania was annexed as well, leaving Balts without any independent nations for over a century. Latvia was now deep inside the Russian Empire.
Once again, for Latvian peasants, little has changed. The German elite still dominated the economy, even if it was stripped of its final political powers and Russian became the "political language". Vidzeme, Courland, and Semigallia retained their German-inspired law and did not face discrimination and serfdom suffered by Lithuanians.
Latgale, on the other hand, was annexed to Russia-proper (Vitebsk governorate) and saw a worse fate: oppressive Russian laws and further dilution of Latvian majority. It became one of the few Russia's lands where Jews were allowed to settle, which lead to them becoming the majority in some Latgalian towns. Moreover, Latgale stagnated educationally with merely 50% of people there becoming literate during the 19th century (that number stood at 90% in the more autonomous regions of Latvia).
Latgale was also the part of Latvia where 1862-1863 Polish-Lithuanian uprising was felt the most. As the uprising failed, the final hopes to restore the situation before Russian conquest were dashed. However, the tremendous changes in Europe were about to reach Russia and the new urban industrial era would eventually offer Latvians far more possibilities than the old times of "noble foreigners" ever did.