Seaside Ventspils was developed in 19th century when the city expanded Westwards. Rising popularity of beach holidays gave birth to a villa district, while a district of dockworkers was built near the port.
Ostgals ("Port end") district west of Old Town is a collection of low rise homes. Some of them are especially old (as are the narrow cobbled streets). Once the district was inhabitted by dock workers, but today it is also liked by the local elite. The only draw there (beside the atmosphere) is the Ventspils theater.
South of Ostgals 19th century elite has constructed numerous elaborate wooden and brick towered villas, hugging a tree-lined Vasarnīcu boulevard. Some are restored as hotels, some are unfortunately abandoned.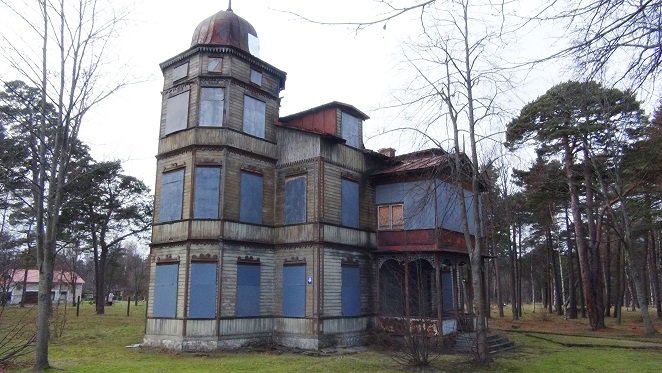 Seaside open air museum has been built next to the villas. It consists of numerous local peasant homes moved in from different locations of Courland. An attraction here is a narrow gauge railway (600 m) that offers journeys around the nearby park in summer.
The seaside park itself offers an open-air free exhibition of old anchors and children play zone. Most people just pass by however in order to reach the beach beyond it. Sea may be experienced in ways alternative to swimming or sunbathing however. There are two lookout towers. Southern breakwater provides a popular recreational walk. It ends at a lighthouse – visitors there may be splashed by waves when there are heavier winds.