Rundale Palace is the leading palace of the Baltic States both by size and extravagance, making it one of Latvia's top tourist sights.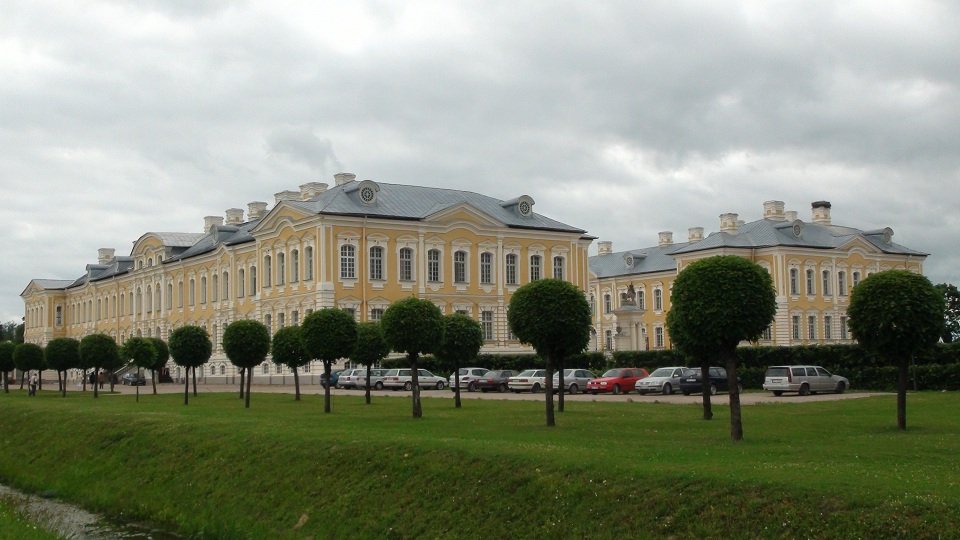 The Baroque edifice has been built in 1736-1768 as a summer residence of the dukes of Courland and Semigallia.
Many opulent rooms may be visited inside on the second floor. Restorations are ongoing and much of what haven't survived has been restored. First floors houses temporary exhibitions.
Formal garden in front of the palace with its straight paths and a fountain is another pinnacle of the visit.
Unlike all other noble families of Poland-Lithuania who would merely own their lands as freehold, the dukes of Courland-Semigallia (Kettler and Biron dynasties) had their own semi-sovereign duchy, leading to unmatched importance and riches. Courland even participated in the colonization of Americas, colonizing Gambia and Tobago island in the 17th century where a geographical feature is still named Great Courland Bay.
The Rundale palace is the main reminder of this small-yet-rich country, as the Dukes' primary residence in Jelgava had its interior looted and burned by the Russian forces in 1918.
Both Rundale and Jelgava palaces were created by Bartolomeo Rastrelli – the favorite architect of Russian czars who was behind the Winter Palace (Hermitage) and Tsarskoye Selo Palace near St. Petersburg.