Daugavpils downtown of straight 19th century streets may be too much altered by Soviet rebuilding drive to retain that old charm it must have had, but it is nevertheless the center of the city.
Finding shopping, nightlife and accommodation opportunities is the easiest here, and access to most sights beyond downtown is also trivial. Daugavpils train and bus stations are both located in the downtown. Unlike many Western cities, the main malls of Daugavpils are right at its center.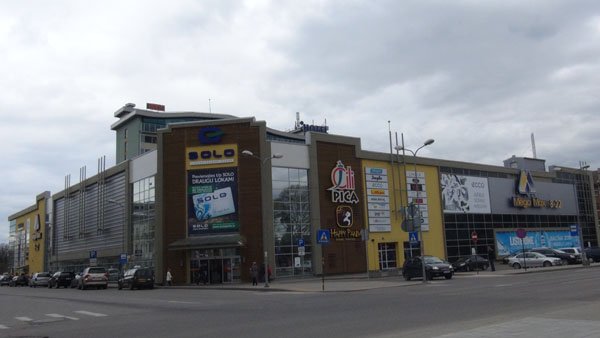 While many old buildings have been demolished and replaced by nondescript Soviet parks or boring new edifices, many still remain to be found while exploring Daugavpils streets. The city is especially famous for its red brick edifices where bricks are formed into ornaments to beautify facades.
The heart of Downtown Daugavpils is the Unity Square which hosts an art deco Unity House (1937; a project of interwar Latvia), the theater and a Latvian home museum of pre-modern handicrafts.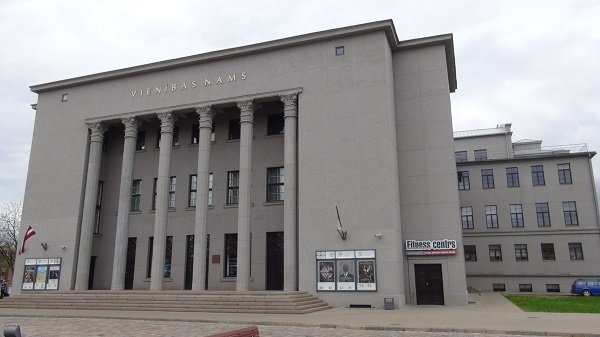 Rigas Street, the main pedestrianized street of Daugavpils connects Unity Square to train station, offering some old facades.
Downtown Daugavpils also have multiple houses of worship from the pre-WW2 era, though they are small as the city used to be religiously fragmented. These are the St. Peter Catholic Church (1934) and Synagogue (1850). The Russian Orthodox church has been imploded by the Soviets in 1969 and only a small chapel was rebuilt in its place after independence.
Two main parks of downtown Daugavpils are the Dubrovin park (laid in the 19th century and named after the mayor of the time) and Central Park (a larger one that includes sports facilities and an ice hockey hall nearby). Dubrovin park has a fountain, an old towered firefighters building and a Soviet WW2 memorial which is still welcome by primarily Russian Daugavpils residents.
Daugavpils downtown also hosts a regional museum offering information on local fauna and cultural history,
To the south Daugavpils Downtown is limited by a 6 km long dike which safeguards the city from Daugava floods, a 19th-century engineering marvel.
Loading map...