Latvian resorts became nearly synonymous with Jūrmala. Jūrmala is not only the largest Latvian resort, but also the largest resort town at the Baltic Sea.
With some 20 km of uninterrupted golden sand beach and 51 000 inhabitants (many of whom work to help the even-more-numerous summer vacationers feel even more welcome), Jūrmala is indeed hard to surpass. For those tired of the sea, it offers calm forests for hiking, pretty century-old wooden villas to admire, and various gigs and restaurants (especially at the "center village" of Majori). All that is easily accessible from Riga airport.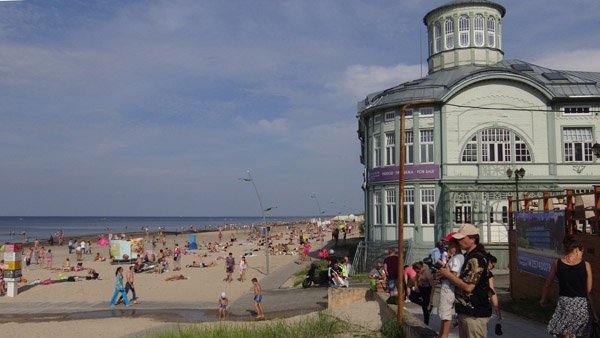 However, Jūrmala can get pricey in summers while the beach may be crowded. While avoiding Jūrmala center may be one option, seeking other resorts may be another one, as the long Latvian shorelines have much to offer.
Top alternatives for Jūrmala are the coastal cities of Liepāja and Ventspils. They are not really resorts, but they have fine long beaches and many hotels. In fact, their seaside districts are like little Jūrmalas. Ventspils has been working especially hard to get tourist attention, launching various publicity stunts.
For those wishing to get further out of the beaten path, there are many coastal villages that offer just a single hotel in a natural location. Latvia is well endowed with sandy beaches as they follow its entire shoreline. So there is never a question of whether some coastal village has a beach. However, if you need things such as beach cafes, then you'd better stick to the coastal cities and Jūrmala.
If the sea is not your cup of tea altogether, the top Latvian resort destination is Sigulda. It offers a great amount of various non-sea-related activities, from hiking in forests to alpine skiing in winter (the hills are small, however).