Dzintari and Bulduri districts ("villages") of Jūrmala feel as if the city would be married here with a forest. All the streets are well shaded by trees, while entire swatches of pristine forest remain among the developed zones. Also, trees separate Dzintari and Bulduri from its main draw: the sea, which is always easily accessible.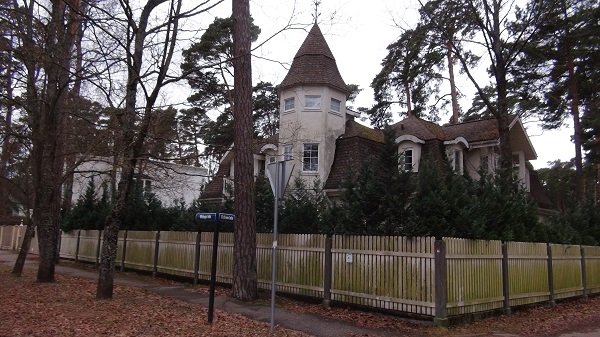 Both districts have been developed in the early 20th century. With seaside holidays getting more popular, more and more Rigans sought to have a summer residence in Jūrmala. Thus, the regular grid of Dzintari (then known as Edinburgh) and Bulduri boulevards was laid.
The area is vast, spanning 6 km from its east end at Lielupe mouths forests to the west end at Majori (Jūrmala downtown). A walk to traverse the entire Dzintari and Bulduri would be long, and bike may be preferable.
There are few actual wonders, but most of many turn-of-the-century towered wooden villas are interesting to look at. There are also restaurants and shops, although they are relatively few and far between. Bulduri is the newer and more regular of the two eastern areas. Two parallel boulevards there are bisected by numbered streets. At the time no new community (even that of summer homes) would have been imagined without a church, so a small but lovely Bulduri Lutheran church has been built in 1889.
In parts of Dzintari closer to Majori, modern market needs meant that many of the lots have been converted into multi-story buildings, primarily expensive apartments aimed at both Latvians and Russians.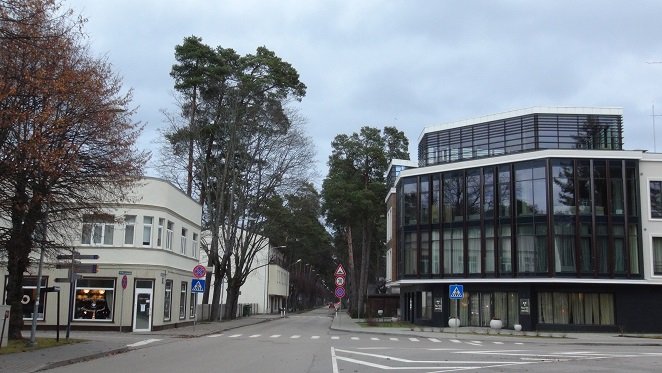 Still, many pre-WW1 buildings remain even there, while pristine lands are not built up. One example is the Dzintari forest park, which has an observation tower offering very green vistas. In fact, Jūrmala city is almost invisible from there, so small are the buildings and so dense are the high surrounding trees.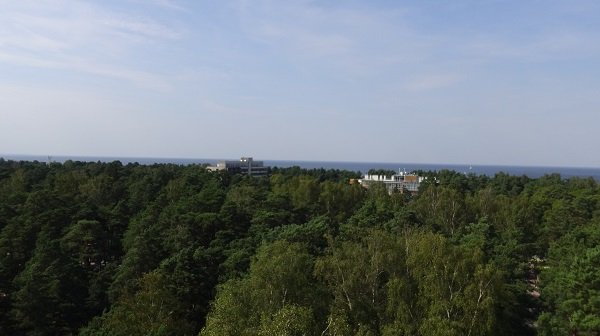 Less impressively, some abandoned large Soviet spas and hotels stand amidst these natural areas. Even the ones that are still used arguably ruin the landscape with their megalomaniac forms.
Southern Bulduri is the main access point of Jūrmala as cars and trains arrive from Riga across two bridges. A rest area that includes a major indoor water theme park as well as gas station and a supermarket serves the arriving visitors near the car bridge.
At the easternmost tip of Jūrmala the Lielupe "village" is where Lielupe river enters the Baltic Sea. Separated bya forest from Bulduri it has a few old buildings but most of the developments are modern apartment blocks. One exception is the Outdoor museum. opened in 1970 it offers an opportunity to see how a premodern (i.e. pre-tourism) life in the area looked like back in the 19th century.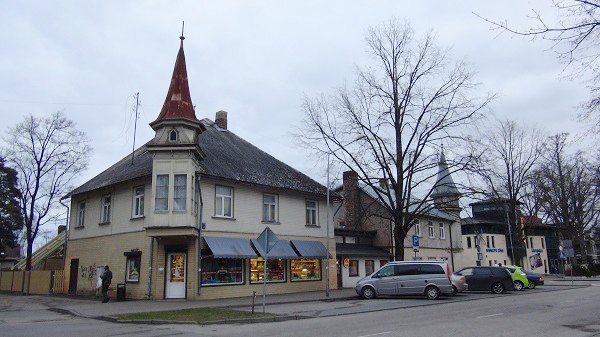 The area is served by train stops (from east to west) Lielupe, Bulduri and Dzintari. Lielupe train stop is actually located in southern Bulduri as the mouths of Lielupe area lack a railroad.